Today's Tone, Tomorrows Vintage
The story of PRS guitars is a relatively short and simple one, though Paul himself may not agree as he spent almost as much time developing his dream as he has worked realising it. For the most part you and I will have heard about the early years of production in Virginia Avenue, Annapolis, around the mid eighties. Paul's Story is best told, and well documented, in Dave Burrluck's 'The PRS Guitar Book', an enjoyable read and excellent reference manual. Updated in the summer of 2002, in large format paperback, with a host of stunning pictures, which go a long way to showing the beauty of these fine instruments.
What price quality?
PRS guitars are respected and revered by musicians throughout the world, it must be said that there is not a bad model out there bearing the name. If you were approached and told that someone could make a product that would rival the best two leading manufacturers, would cost on average twice as much and if you wanted information it would cost you a small fee to purchase a brochure, how many of us would back the idea? Well if you new Paul and the quality of his work, understood his vision and therefore his dream, perhaps if you were brave, then you would. I met Paul back in 1993 and was lucky enough to spend a few moments talking guitars, in particular the one featured in these pictures, I cannot say if he is just a good craftsman who worked hard and had a few breaks, or whether his talents encompass great selling and marketing along with guitar making, but he is a down to earth guy who is very proud of all of the guitars bearing his name and he is very customer focused. It is a corny cliché to say these instruments are not products, but like his children. That is the sense of feeling he gives, therefore from a selling and marketing position it is creating a desire to care for the product and enhances it's value. He pointed out to me something I had not even noticed when I originally purchased my first PRS, the top is a single piece, not book matched, he told me a story about that particular piece of wood and how it was collected from the shore as a piece of driftwood, about five '10' tops were created from that one find. Now that for me sums up the PRS approach, the wood was spotted for its' potential use, someone saw that, and visualised it as a beautiful instrument, then two years later it is recognised, many thousands of miles from where it was found.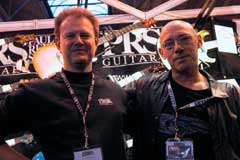 PRS today
I met up with Peter Wolf, International Sales & Marketing Manager, at the UK Music Show. Though what was a very noisy environment, which would not allow taping of the interview, we talked about Peter's history and involvement along with where the company is today. Peter has been involved with Paul since 1985 when the PRS Company first started to produce from the Virginia Avenue site. Peter was heading a Retail company, Prosound Music Center in Germany, and had put the PRS product into his catalogue, prior to getting distribution rights. He met with Paul at Namm that year and asked for the deal. Paul put his hand in his pocket and produced a lot of business cards from German outlets, many who were larger than Peters' own and asked why should I give it to you? Peter said because he believed in the product and that he would do a good job with it… and anyway he had put it in his catalogue and mailed thousands of people already, needless to say he got the distribution rights. Prosound were very successful with the PRS brand, this is mentioned in David Burrluck's book, that the UK and Germany were the major players outside the States.

Today the UK is the biggest export market for PRS, why? According to Peter, Rock & Roll started, or at least followed closely, that which was going on in America, therefore the market potential was always better. Presently 20 to 25% of the current output of approximately 1200 guitars per month is export. Australia is an emerging market presently and understandable as more and more talented people get the exposure they deserve and therefore their markets widen. Peter sold Prosound as a going retail concern around 1995, and concentrated on the distribution side of the business (PRS Guitars Germany), which had been operating alongside since 1990. In 1997 he began working directly for Paul. It was almost a year after he was offered the job before he finally took it, mainly due to a family matter, and also the distribution business had to be handed over. There are a number of 'Staff' guitars made, and Peter is no exception, his guitar is featured on page 90 of Dave Burrluck's book. A McCarty model with Camel inlays, completed in November of 1998. I asked Peter about the apparent price disparity between the USA and rest of the world. PRS sell 75-80% of their instruments within the USA, these are sold through dealers directly to the end users. It has to work differently for international sales for many, and some obvious, reasons. Shipping costs preclude the same direct dealer sales arrangement, and even shipping in quantity adds greatly to the unit cost, as well as import duty and local taxes. It is these factors along with an additional link in the supply chain that can mean dollar/Euro/Sterling parity. Chandlers of South West London first distributed PRS within the UK around 1986. This relationship worked well but the distribution was changed to Washburn UK in the early years of the 90's. Doug Chandler joined PRS as Marketing Director in 1997 and was a major influence in the decision to introduce the Korean made Santana SE range. The Korean product has been developed with the view of being able to make the brand available to the street kids. According to Dave Burrluck, this was something that Carlos Santana himself wanted. Though the price of an SE is still relatively high, compared with a Squier or Epiphone with which they will be compared, it is on a par with the cost of the 'real' thing. PRS employ 2 people to oversee the production and methods used within the far eastern factory, with at least one of them there most of the time. They use solid mahogany for the bodies and equally, quality woods for the necks. The savings, which can be passed on, are in things such as flat tops, no veneers, labour etc. Still they do not put their name on the front. Following the collapse of Washburn UK, Gavin Mortimer founded Headline Music in1998-99 and distributes exclusively PRS Guitars to the UK dealer network. From the American companies perspective this has to be a good thing, Headline only distribute one line of guitars, that being PRS, previously distributors Washburn UK sold other ranges and therefore were not PRS focused, prior to that Chandlers not only sold other ranges but were a retail outlet, therefore may have alienated themselves from dealers who saw them as competition.
From an idea to a dream - from a dream to reality
The author wishes to thank Peter for his time and acknowledges the PRS Company, USA, Gavin Mortimer & Headline Music Ltd., UK
figures relate to 2002 stats
©2009 All photographs remain the copyright of the owners and are used with permission